It's been one of the worst years for gold in a generation. A flood of outflows from gold ETFs, endless tax increases on gold imports in India, and the mirage (albeit a convincing one in the eyes of many) of a supposedly improving economy in the US have all contributed to the constant hammering gold took in 2013.
Perhaps worse has been the onslaught of negative press our favorite metal has suffered. It's felt overwhelming at times and has pushed even some die-hard goldbugs to question their beliefs… not a bad thing, by the way.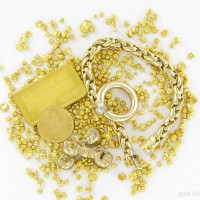 To me, a lot of it felt like piling on, especially as the negative rhetoric ratcheted up. Last year's winner was probably Goldman Sachs, calling gold a "slam-dunk sale" for 2014 (this, of course, after it's already fallen by nearly a third over a period of more than two and a half years—how daring they are).
This is why it's important to balance the one-sided message typically heard in the mainstream media with other views. Here are some of those contrarian voices, all of which have put their money where their mouth is…
Marc Faber is quick to stand up to the gold bears. "We have a lot of bearish sentiment, [and] a lot of bearish commentaries about gold, but the fact is that some countries are actually accumulating gold, notably China. They will buy this year at a rate of something like 2,600 tons, which is more than the annual production of gold. So I think that prices are probably in the process of bottoming out here, and that we will see again higher prices in the future."
Brent Johnson, CEO of Santiago Capital, told CNBC viewers to "buy gold if they believe in math… Longer term, I think gold goes to $5,000 over a number of years. If they continue to print money at the current rate, I think it could be multiples of that. I see a slow steady rise punctuated with some sharp upward moves."
Jim Rogers, billionaire and cofounder of the Soros Quantum Fund, publicly stated in November that he has never sold any gold and can't imagine ever selling gold in his life because he sees it as an insurance policy. "With all this staggering amount of currency debasement, gold has got to be a good place to be down the road once we get through this correction."
George Soros seems to be getting back into the gold miners: he recently acquired a substantial stake in the large-cap Market Vectors Gold Miners ETF (GDX) and kept his calls on Barrick Gold (ABX).
Don Coxe, a highly respected global commodities strategist, says we can expect gold to rise with an improving economy, the opposite of what many in the mainstream expect. "You need gold for insurance, but this time the payoff will come when the economy improves. In the past when everything was falling all around you, commodity prices were soaring out of sight. We had three recessions in the 1970s and gold went from $35 an ounce to $850. But this time, gold is going to appreciate when we start getting 3% GDP growth."
Jeffrey Gundlach, bond guru and not historically known for being a big fan of gold, came out with a candid endorsement of the yellow metal: "Now, I kind of like gold. It's definitely very non-correlated to other assets you may have in your portfolio, and it does seem sort of cheap. I also like the GDX."
Steve Forbes, publishing magnate and chief executive officer of Forbes magazine, publicly predicted an impending return to the gold standard in a speech in Las Vegas. "A new gold standard is crucial. The disasters that the Federal Reserve and other central banks are inflicting on us with their funny-money policies are enormous and underappreciated."
Rob McEwen, CEO of McEwen Mining and founder of Goldcorp, reiterated his bullish call for gold to someday top $5,000. "We now have governments willing to seize their citizens' assets. We now have currency controls on the table, which we haven't seen since the late 1960s/early '70s. We have continued debasement of currencies. And the economies of the Western world remain stagnant despite enormous monetary stimulation. All these facts to me are bullish for gold and make me believe the price will bounce back relatively soon."
Doug Casey says that while gold is not the giveaway it was at $250 back in 2001, it is nonetheless a bargain at current prices. "I've been buying gold for years and I continue to buy it because it is the way you save. I'm very happy to be able to buy gold at this price. All the so-called quantitative easing—money printing—by governments around the world has created a glut of freshly printed money. This glut has yet to work its way through the global economic system. As it does, it will create a bubble in gold and a super-bubble in gold stocks."
You can find the complete article at goldseek.com